Online Divorce Canada – Alberta Online Divorce $179
Separation And Divorce Documents
We Draft and File 8% Of Edmonton's Divorce Forms and Documents — The Most Of Any Edmonton Firm
Our separation and divorce experts will help you draft simple, uncontested divorces for a fixed fee. [For contested divorces or complicated files — see our *legal representation page*]
For our simple uncontested divorce service, our staff will assist you in the completion of your Alberta divorce forms and documents using the information you provide. A lawyer does not oversee your file, and The Divorce Company does not represent you. We will file the divorce forms and documents on your behalf, and you will not need to attend court.
To use this simple, uncontested fixed fee service, the following must be true:
You and or your former spouse have lived in Alberta for the last year.
You have already divided your assets and debts between you in a way that does not require any additional work or description. We may still be able to assist you, however there will be an additional fee.
If there are children:
Child support is being paid according to the Federal Child Support Guidelines.
You have agreed on parenting arrangements and decision-making responsibilities.
You either:
Have been living separate and apart from your spouse for at least one year (maybe you were separated while you were living in the same home), OR
Have not yet been separated for one full year, but want to initiate the Alberta divorce with the Court of King's Bench now, so that the rest of the divorce process will be much faster, OR
If the marriage broke down because of adultery or cruelty, the person who was cruel or committed adultery is willing to sign a document indicating that they agree they did these things.
Many people need additional documents drafted, such as separation agreements, title transfers, dower releases, registration of spousal support payments with the Canada Revenue Agency, request for reduction of tax with your employer, Canada Pension Plan credit splitting, and a will. Many people don't know about the mandatory registration of marital status changes required by the Canada Revenue Agency. In the application, you can check off other documents that you may be interested in having assistance with drafting.
#1: Uncontested Joint Divorce
If your spouse agrees with all issues of the divorce and is willing to sign the divorce documents, you can use a joint divorce. You do not need to sue or serve the other person. This is much less expensive and much faster as your spouse is cooperative.
Our fees (not including GST) for drafting and filing an uncontested joint divorce depend on whether you choose to proceed in-person or online:
In-person: Either one or both spouses attend our office for one 50-minute meeting, you have all necessary materials with you such as photo ID, marriage certificate, and Parenting After Separation certificates (if you have children 16 or under) — $1,200 or $1450 with Children + Government Court Filing fee of $260
Online: You complete an application online – you and your spouse come in only to sign documents (together or separately) – $1200 or $1450 with Children + Government Court Filing fee of $260. Note — This process does not allow for any substantive questions. Please use the online process only if you are sure you will have no questions or you are located outside of the Edmonton area. See below for a link to start the application.
#2: Sole Divorce
If you are not sure if your spouse will cooperate and, consequently, you do not count on them signing the divorce documents, there are extra steps required, which include having someone (it cannot be you) who will give the documents to your former spouse in person. This is called "serving documents." For people to do this for you, for an additional fee, we can set this up on your behalf.
Assuming your former spouse does not contest the divorce (tell the court that they do not agree with the divorce), we can tell the court that they never filed any documents disagreeing with the divorce and ask the court to continue the divorce as if they had agreed to it. This is how most of these types of divorces proceed.
If your former spouse files documents disagreeing with aspects of the divorce, then we advise that you seek the advice of a family lawyer. You can retain our firm to represent you, or you can find your own divorce lawyer. The cost of additional legal services is not included in the fixed fee.
Our fees (not including GST) for drafting and filing a sole uncontested divorce depend on whether you choose to proceed in-person or online:
In-person: $1450 or $1700 with children + $260 Government Court Filing Fee
Online application: $1450 or $1700 with children + $260 Government Court Filing Fee
If necessary, we can arrange to complete the following additional services on your behalf for a fee (you can complete each of these on your own if you wish):
Arranging to have your spouse served – minimum $100 + cost of process server (estimated at $175 depending on circumstances).
Asking the court for permission to have your spouse served outside the country – minimum $650 as this requires someone to attend court on your behalf.
Asking the court to approve a different way of serving your spouse (by email or Facebook for example) – a minimum of $650 as this requires someone to attend court on your behalf.
Getting Started
Whether you are starting a joint divorce or sole divorce, having us draft separation and divorce documents in-person or from an online application, you will need to have the following:
Your information: full name at birth, last name used just before marriage, date of birth, current last name, current address, phone number, and email.
Their information: (as best as you can) full name at birth, last name used just before marriage, date of birth, current last name, current address, phone number, and email.
Marriage Certificate (Alberta example photo):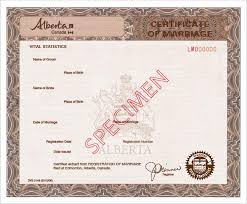 If you were married in Canada, you must provide a marriage certificate issued by the government. Please note: this is not a handwritten certificate that you might have obtained from the marriage ceremony. You can order acceptable marriage certificates from any registry agent in Alberta. Most provinces have online ordering as well (except Alberta).
If you were not married in Canada, you will need to provide the name of the person who married you and the names of the witnesses to the ceremony. If you cannot remember, you may indicate 'Unknown'. (e.g. We were married before Unknown. There were two witnesses, John Smith and Unknown)
If there are children:
Full names, date of birth and city/province of birth.
If there are children under the age of 16, you (both spouses in the case of a joint divorce) will provide a completion certificate from the Alberta Government's free Parenting After Separation (PAS) course available online *here*.
The current incomes of both spouses will be used to calculate child support.
The expected monthly cost of any additional expenses for the children such as childcare or extracurricular activities.
What would work better for you? An in-person meeting or completing an online no-obligation application?
Online Divorce Canada – Alberta Online Divorce $179
You've Found the Best Price. See a Lower Price? We'll Refund You the Difference. Complete All Alberta Divorce Forms Online. Fast, Lawyer-Free, 100% Guarantee. No Hidden Fees.
Book A One-Hour Meeting: Divorce And Separation Documents Prepared In Person
Once you have assembled the necessary information, book an in-person meeting using the link below. In that meeting, we expect to draft all the necessary divorce documents and forms in one hour. You will review, make any necessary changes, and approve the documents. If you have been separated for more than one year and are doing a joint divorce, you can sign all the documents in that single meeting.
If you want to make more time available in the meeting for questions, consider completing the online application first.
Book A One-Hour Divorce Document Preparation Meeting
Online Application
You can provide your information online. Based on the information you provide, we will provide a quotation for expected services.
Click the link below to get started. Remember to save your application often and submit it once you have completed it. We will review your application and send you a quote for services once we are sure that we can help you.
Once you have the quotation, you may:
Provide payment by e-transfer or credit card, fill in the online application, and we will draft the divorce documents and then send them to you by email for review.
Book an in-person meeting. We can use the information you provide in the online application to significantly speed the drafting process making more time available for you to ask questions during the meeting. Payment is due at the end of the meeting.
Do nothing. There is no obligation. Just let us know that you do not want to proceed and we will close your file.
Additional Potential Costs
No one likes surprises. We do not like to charge extra fees. Over 95% of clients do not pay us any additional fees, but occasionally it happens. When filling out the online application, the chances of having additional fees can be greatly reduced by reading the instructions carefully and reviewing all documents before signing.
Often, corrections will take significantly longer than the drafting of the actual divorce itself. The following are minimum charges and do not include GST. If it takes more time than expected to make the corrections, we will bill at a rate of $290/hour plus GST.
Corrections to divorce documents after you have approved them – $350.
Administer and refile divorce or separation documents that were signed incorrectly outside of our office – $250.
Discontinuing a prior divorce that was previously started which you did not tell us about — $250.
Asking the court to dispense with the normal 30-day appeal period once the divorce has been granted – $250. Most people just wait for the 30-day appeal period to expire as then there is no additional charge.
Having to reissue documents that were lost, spoiled, or destroyed – $250.
Having our company apply for the Divorce Certificate – $150 (Most clients do this themselves for free using a web link that we provide to them).
Booking a signing meeting but failing to attend and not canceling within a minimum of 8 business hours' notice – $100.
Having to book additional meetings because one party did not bring the required documents as advised – $100.
Trying to provide a rationale for why you are not following the Federal Child Support Guidelines – $350/hour (Most clients have a hard time clearly indicating to the court why the arrangement they have come up with is in the best interests of the children and why a Judge should allow a different arrangement and would benefit from a discussion about this).
Discussions about how both parents might claim the amount eligible as a dependent tax deduction in a shared parenting arrangement (normally a $3200 tax savings per year for the higher income spouse) – $350/hour.
Postage for foreign countries – $25.
Having to attend the post office because documents were sent by registered mail and we were not available to sign for them – $250 (Please – avoid this fee, send documents as regular mail, it is less expensive and just as reliable. Documents can always be recreated and resigned if for some reason they go missing).
Drafting supplemental Affidavits because of additional requests by the court. This is unusual, but it does happen. – minimum $250.
Is Mediation The Right Choice For You?
Our Mediation Process, provides a knowledgeable impartial mediator who will assist couples in reaching resolution regarding all issues related to their separation and divorce.
Over 97% of our clients reach an agreement on all issues — often within one or two meetings.
Read more below about our process and the issues that are most often discussed in Mediation.
To learn more: book an initial phone call, come in for a couple's consultation, or book time with one of our mediators to get started in a working meeting.
Getting Started
Sometimes the first step can be the hardest. Which first step will be best for you?
A "no obligation" Couples Consultation to learn about separation and divorce and determine if mediation/assisted negotiation is a good fit for you.
In a working meeting, you will be amazed at how much progress can be made in a few hours. You can choose the length of the meeting and can attend either as a couple or by yourself. You are charged only for the time that you use.
The Separation and Divorce Company
#502 10080 Jasper Ave., Edmonton, Alberta, T5J1V9
Phone: 780.990.0407 | Fax: 780.705.1028 | Email: info@thedivorcecompany.ca
We are sorry that this post was not useful for you!
Let us improve this post!
Tell us how we can improve this post?